Signalment:  2 year old, M/N, American Staffordshire Terrier, "Bosley"
Presentation:  Presented after being taken in by Animal Control, received single dose of Ivermectin SC injection and had received Prednisone 20mg PO SID for unknown duration.  DVM diagnosed severe Demodicosis and discontinued steroids, started Cephalexin and benzoyl peroxide bathing/shampoo, daily Ivermectin PO and laser therapy.
Treatment Details:  Started laser therapy on 1/29.  Approximately 85% of total skin surface treated for total dose of 16,200 J at 6W over ~3,200 cm2 (5 J/cm2).
Every other day treatment for 5 treatments, then weekly through 3/1 when all lesions resolved.
Treatment Results:  "Patient's skin lesions/disease showed rapid reduction in erythema, crusting, and pruritis leading to marked improvement in patient's comfort level while managing/treating generalized demodicosis/pyoderma.  Overall healing process was dramatically accelerated by laser therapies and most importantly comfort was makedly improved throughout laser therapy period." – Dr. Sara Hogel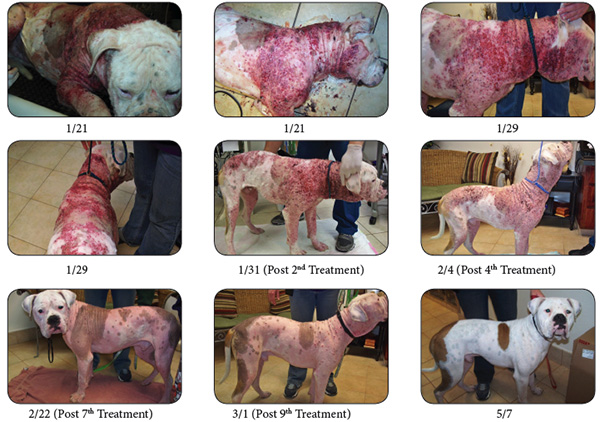 About the author(s)