Companion Therapy Proudly Participates in the South Carolina
Aquarium's Sea Turtle Release at Isle of Palms
ISLE OF PALMS, SC – September 14, 2013 – Companion Therapy Laser representative, Jennifer Oliverio, was proud to participate in the release of 4 sea turtles on Saturday.  Jennifer has been involved in rehabilitating one of the turtles, "Dennis", for the past 9 months at the South Carolina Aquarium.
Dennis is a 9-pound juvenile Kemp's ridley sea turtle.  Kemp's ridley turtles are the most-endangered sea turtle species.  He was rescued with 50 other cold-stunned turtles in December near Cape Cod, Massachusetts.  Dennis took the trip with 9 other turtles to South Carolina for his rehabilitation from the cold-stun and a fracture.
Jennifer has been an integral part of Dennis's rehabilitation, which included receiving laser therapy on his right front flipper elbow.  Jennifer has been involved in his treatment since December.  About Dennis's send-off, Jennifer says, "It was such an amazing opportunity to be part of the sea turtle release.  I have been treating Dennis with the Companion Therapy Laser for months and to see his full recovery was a truly moving experience".
Jennifer released Dennis into the sea to chants from the crowd of "swim strong!" and "go Dennis!".  Jennifer has become so passionate about this cause that she is participating in a triathlon next month to raise money to help rehabilitate the sea turtles.  Rehabilitation of these amazing creatures takes 8 to 10 months and costs thousands of dollars per turtle.  To donate to the cause through Jennifer's triathlon, click here.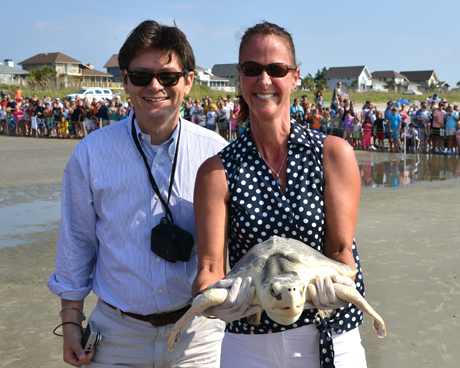 Jennifer Oliverio and her husband Bobby pose with Dennis before he is returned to his home.
About Companion
Companion® Therapy Laser is the Delaware-based therapeutic laser manufacturer of Companion® and Pegasus® Class IV Veterinary Therapy Lasers.
Companion is a division of LiteCure and provides expertise in design, manufacturing, production, and support. Companion not only provides highly reliable products, but also the resources and tools to successfully incorporate laser technology and products in veterinary practice.
LiteCure is ISO13485-certified and continues its commitment to science, education, and the highest level of customer service.