Thank you to everyone who submitted cases to Companion's second Make a Case with Companion case contest!  The cases this year were even more impressive than last year!  We are excited to announce the winner and 3 honorable mention cases!
Winner:  "Rowdy Can Walk!"
BFF Veterinary Care in Minneapolis, MN, submitted by Jerri Smith, DVM, MS, BS

Rowdy is a 14 y/o Labrador Retriever that presented with progressive non-painful rear limb paralysis suggestive of Degenerative Myelopathy. Dr. Smith began treating Rowdy in February of 2014 with therapy laser after the owner was facing the decision to euthanize Rowdy due to his inability to walk without assistance and incontinence. Dr. Smith documented her weekly treatments of Rowdy as well as his video progress over the following 12 months and Rowdy has made remarkable progress! Regaining the ability to walk without assistance as well as regaining complete continence, Rowdy is more mobile than ever thanks to Dr. Smith and his owner's diligent care.
Watch the video below to see the full details on the winning case!
Honorable Mention 1:  "Block"
Dover Veterinary Clinic in Dover, OH, submitted by Jeffery W. Foltz, DVM
Canine Case "Block" submitted by Dr. Foltz from Dover Veterinary Clinic in Dover, OH involved an 8 year old Labrador Retriever with a septic wound with severe tissue devitalization and avascular necrosis secondary to a cat bite, possibly involving an unusual rare bacteria. The rapid progression and worsening of the patient's symptoms along with some unusual history that the owners later provided to Dr. Foltz prompted a modification of the original treatment plan.  Intensive case management with appropriate medical therapies as well as laser were responsible for the patient's ultimate recovery. Dr. Foltz commented, "Block's success story has caused me to re-evaluate how I practice veterinary medicine after twenty three years.  This case has challenged and encouraged me to look for ways to use the laser for many other conditions, as I want all my patients to benefit. With each case I find myself asking, 'Could therapy laser help in this situation?'"
Honorable Mention 2:  "Evo"
Mountianview Veterinary Hospital in Rockaway, NJ, submitted by Dr. Elizabeth Boggier
Canine Case "Evo" submitted by Dr. Boggier from Mountainview Veterinary Hospital in Rockaway, NJ involved infection and severely destructive fungal rhinitis/sinusitis from Aspergillosis occurring in a 4 year old Rottweiler.  The fungal infection had worsened despite a variety of localized and systemic appropriate therapies over a three year period and laser therapy was attempted as a last resort.  The patient responded and Dr. Elizabeth Boggier commented, "I have been so sufficiently impressed with the results of this case, I recommended it to a colleague with a similar challenging situation.  This was via an online discussion on Veterinary Information Network (VIN) including Evo's dramatic before and after pictures so that it may be shared with hundreds of veterinarians searching for a complementary treatment for Aspergillosis."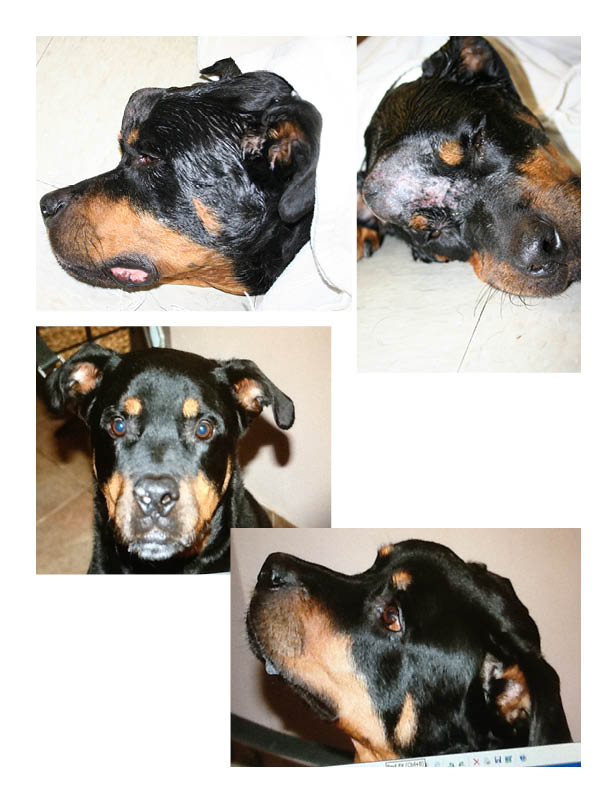 Honorable Mention 3:  "Nilla"
Baring Blvd Veterinary Hospital in Reno, NV, submitted by Sara Hogel, DVM & Renaud Houyoux, LVT
Canine Case "Nilla" submitted by Dr. Hogel from Baring Blvd Veterinary Hospital in Reno, NV involved severe trauma inflicted to the front leg of an 8 year old Great Pyrenees (that had been missing for 4 days and was found with its foot caught in a steel leg trap) resulting in chronic edema and lymphatic obstruction and secondary tendon contracture.  Dr. Sarah Hogel commented, "The patient showed significant and consistent improvement after the initial treatment and continued to show an accelerated rate of palliative and healing responses to laser therapy on a continual basis without any setback or sequellae."
Watch the case video: