Thank you to everyone who submitted cases to Companion's second Make a Case with Companion case contest!  We are excited to announce the 3 special award winning cases!
Special Award: Case from Farthest Away
Thonglor Pet Hospital, Bangkok, Thailand, submitted by Dr. Mataya Taweechart and Dr. Onjira Chingchit

Exotics Case "Prairie Dog" and Feline Case "Noah" submitted by Drs. Mataya Taweechart and Onjira Chingchit from Thonglor Pet Hospital in Bangkok, Thailand. The Prairie Dog case involved the rehabilitation of a 4 month old Prairie Dog with a broken femur that had failed with attempted surgical fixation. While the patient was initially non- weight bearing, she is now comfortable and mobile on her operated leg. The second case, also submitted by Thonglor Pet Hospital, involved multiple fractures (metacarpals, radius, and jaw) and severe trauma secondary to the feline patient, "Noah" falling from an 8th story window. The patient was successfully managed with both surgery and laser therapy and has made a complete recovery.
Watch Noah's Case Video:

Prairie Dog Case Photos: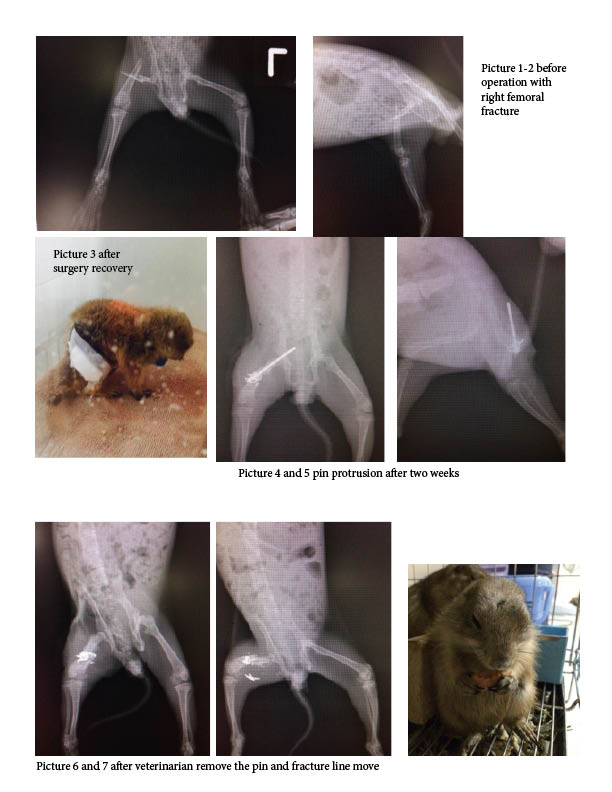 Prairie Dog After Video:

Special Award: Best Equine Case
Calera Animal Hospital, AL, submitted by Dr. Ellison

"PDiddy" submitted by Dr. Ellison from Calera Animal Hospital in Calera, AL involved the treatment of chronic swollen lesions with purulent exudate on the legs of an 18 year old horse. Multiple diagnostics and various treatments were instituted over the following year which did not result in improvement, and in fact, eventual worsening was noted. Since previous histopathology results had indicated eosinophilic inflammation being possibly associated with a Pythium infection (even though no hyphae were observed in original biopsied sections), a serum sample was submitted for serology as well as additional biopsy sample for histopathology.
Ultimately results from these diagnostics and consultation with a university diagnostic lab confirmed that the lab results were consistent with Equine Lagenidiosis. The microorganisms causing this infection are similar to fungi and clinical signs of horses with the infection are similar to Equine Pythiosis. There was no established treatment for Lagenidiosis except for aggressive surgical resection of infected tissue. As the lesions for this patient were on the lower limbs and this was not an option, laser therapy was tried. With only laser and bandaging (other medications had been stopped) the lesions resolved and Dr. Ellison commented, "This patient would fall asleep during treatment. [Laser therapy] would ease the itch and decrease the swelling over the next 24-48 hours following treatment. The cutaneous lesions would definitely decrease in size and respond to laser therapy. It saved this horse named PDiddy when no one else gave him hope!"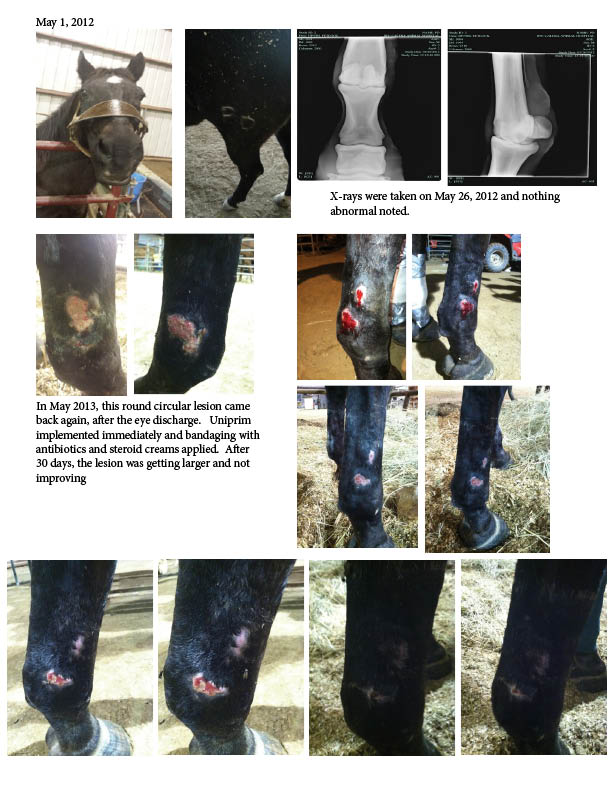 Special Award: Best Exotics Case
Rocky Point Animal Hospital, NC, submitted by Dr. Gnyp and Sarah Drake

"Sea Biscuit" the Bald Eagle submitted by Dr. Gnyp and Sarah Drake from Rocky Point Animal Hospital in Rocky Point, NC involved the treatment of an open wound from unknown trauma on the wing of an adult Bald Eagle.