Learn tips about Class IV laser therapy and other health related topics on the Companion Therapy Lasers blog!  Check back weekly for updated posts.
When utilizing therapy laser units, ocular protection is the primary safety concern. Exposure to the eye is at the top of a short list of contraindications for photobiomodulation therapy (PBMT). While this medical modality is not applicable to this physical structure, it is of great value for a myriad of conditions affecting other parts of the body. We need to take precautions to prevent accidental ocular exposure, and we would never intentionally laser the eye itself. That being said, an experienced operator can certainly do periorbital treatments as long as they protect the eye itself.
Appropriate ocular protection is easily acquired and achieved. Only laser-safe eyewear of appropriate optical density (OD) specific to the wavelength(s) of light being used should be utilized as personal protective equipment (PPE). This very specific product should be provided by the manufacturer as part of adding PBMT to the practice, but may also be available from separate sources. Laser safe eyewear is always labelled with the wavelength(s) of light they are specific to (on the top or bottom edge of each lens) and with an appropriate optical density (OD). Thus, if the eyewear is not labelled with an optical density for specific wavelength(s), it is not considered to be laser safe.
Since varying therapy units utilize different wavelengths, it is important that ONLY the eyewear provided by the manufacturer be used. Protective laser eyewear is specific to the unit, so we cannot use protective eyewear provided with a surgical laser, for example, when using a therapeutic laser platform.
So, why is it that light outside our visible spectrum (~ 380nm – 700nm) can harmful to the eye? It's very simple: the globe and the structures within are made to capture and focus light. As light enters through the eye, it is focused by the lens onto the retina for optimal reception and differentiation. While this is designed for average intensity of non-collimated light, we have naturally evolved to avoid excessive exposure with aversion reflexes such as blinking, squinting, etc. By definition, a laser beam of light has three properties: it is monochromatic, coherent, and collimated. Such a beam of light going through a lens would cause damage to the retina due to focusing an already intense beam of light.
Also, we must remain aware of the nominal ocular hazard distance (NOHD). This is the distance within which anyone (patient, operator, or observer) should be wearing laser safe eyewear during laser operation. NOHD can vary greatly as per the specifics of the unit, wavelengths, power, and equipment utilized (including type of treatment head). Following manufacturer recommendations and utilizing appropriate PPE ensures that we are operating well within safety margins.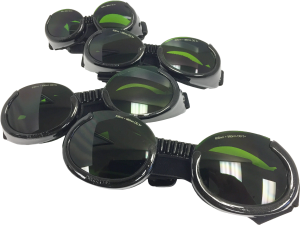 Some manufacturers may supply laser safe eyewear for pets as well. Companion Animal Health currently supplies Doggles®, which have had special laser safe lenses of appropriate optical density placed into the frames. Certainly, laser safe eyewear is the best option to protect the eyes of patients when treating around the head and/or neck or forelimbs, but there are also other ways to do this. There may be cases where Doggles may not be available, or the patient will not tolerate them, and in such instances, an operator can use their finger(s) or hand to shield the eyes. A piece of dark cloth can also to cover the eyes be used as any inorganic material will reflect light to a certain degree (depending on several factors as thickness, density, pigmentation, etc).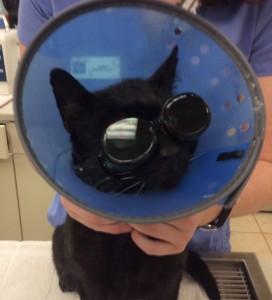 There are other tools we can use to shield the entire head of the patient itself, such as with the Comfy Cone® Elizabethan collars, made of dark, soft material that is comfortable for the patient to wear. The savvy laser operator may also have an assistant apply a series of distraction techniques for the patient during treatment sessions as well—simply petting the dog or cat, or offering food treats to keep the patient from investigating the laser treatment being administered.
Lastly, we also need to remember the required signage that needs to be prominently displayed when the laser is in use. Again, the manufacturer needs to provide this signage as it may slightly vary between different units. Each entryway leading in or out of the room where the laser is being used needs to have this sign as an added measure of safety.
It is important to remember that laser safe eye protection is not only our primary safety parameter, it is also one of the few and yet very specific guidelines set out by OSHA when it comes to the application of photobiomodulation therapy (PBMT). However, meeting this safety standard is easily achieved and should never be an issue in a clinical setting.
Physical Exam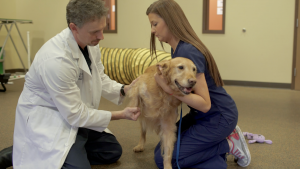 Performing a systematic physical examination and visual observation of the patient's mobility will provide an initial assessment on where the potential issue(s) may exist. A thorough orthopedic exam allows for palpation of the limbs and joints while moving them through their range of motion to draw attention to changes within the tissue and help assess if the patient seems painful. Additionally, it is important to complete a neurologic evaluation and consider running additional diagnostic tests to look for any underlying disease processes that could affect treatment options.
Pain Evaluation
According to the Summary of 2015 AAHA/AAFP Pain Management Guidelines for Dogs and Cats, the most accurate method for evaluating pain is through observing any changes in the pet's behavior. A pain score is considered the fourth vital sign after temperature, pulse and respiration.1 A patient's pain should be evaluated in the clinic and by the pet owner to paint a full picture of how the pet is acting.
Pet Owner
Feedback from the owner is vital in understanding where, the length of time and severity of how the pet has been affected to determine the next steps for evaluating if arthritis is present. He or she should be asked a series of questions about any changes in behavior and given a pain scale form to fill out based on whether it is an acute or chronic problem. This will provide valuable insight into the pet's everyday activities and how they vary.
Standing Evaluation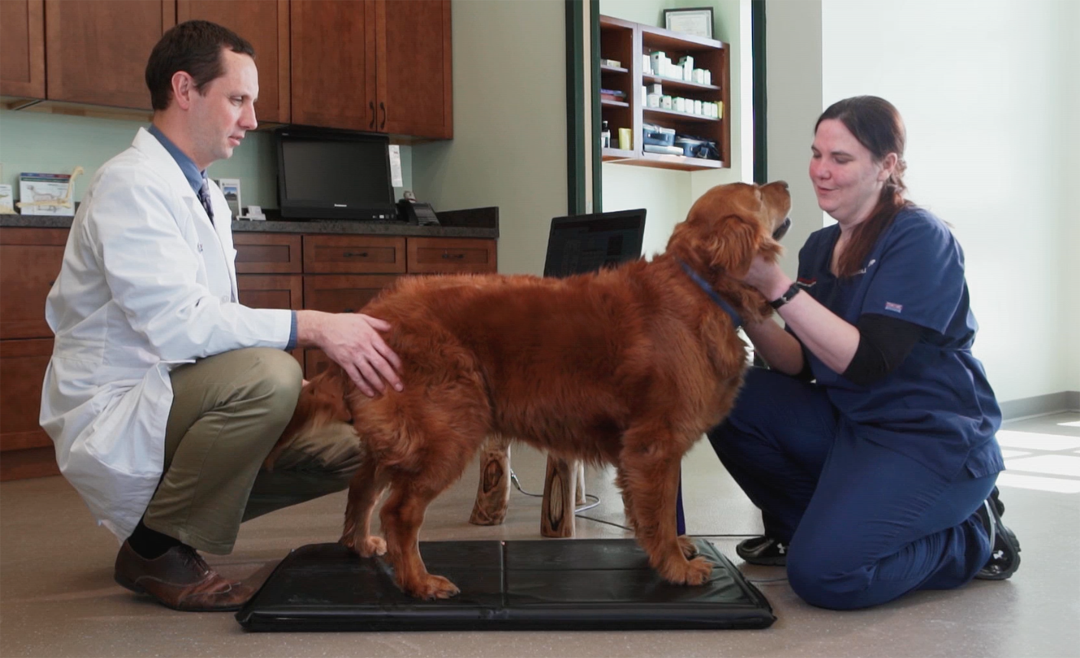 Gathering data on how a patient is bearing weight while standing can provide objective numbers to determine which limb or limbs are effected. It has been shown that bathroom scales can be used as a reliable way to measure static weight bearing in canines2; therefore, a free-standing platform with built-in sensors, such as the Stance Analyzer, can visually show where a potential lameness exists. This sort of tool takes up minimal floor space and can be a cost-effective option in helping obtain a diagnosis, as well as measuring patient outcomes. Recording this sort of information can help guide treatment plans and provide owners with a better understanding of the source of their pets' complications.
Gait Analysis
Objectively measuring a patient's gait can be performed via force plate or a commercially available portable walkway. Force plate is considered the gold standard for evaluating gait by calculating the ground reactive forces of a cat or dog while standing, walking or jogging over the plate. The portable walkway is a mat that allows a pet to stand, walk or jog providing information on gait symmetry, stride length and the amount of pressure placed on each paw. These types of devices are expensive and take up a lot of floor space, thus they are not as common of an option for general practice.
Imaging
It is very important to obtain a picture of the joints suspected of having osteoarthritis. Radiographs are most commonly taken to assess the bony changes associated with OA. MRI and CT offer additional diagnostic capabilities, though less commonly used to assess OA, with MRI showing how the soft tissues are involved, while CT can offer better detail for the bony changes in more complex joints.
Arthrocentesis
Collecting a sample of the fluid in a swollen joint or joints suspected of having arthritis can help rule out what is causing the swelling or pain, especially in younger patients, or in those with a more complicated clinical history. The color, consistency and cellular make-up of the synovial fluid can provide clues as to what changes are occurring within the joint and why.3
References
1. Epstein, M. et. al. (2015). 2015 AAHA/AAFP Pain Management Guidelines for Dogs and Cats. JAAHA, 51(2), 67-84. doi: http://dx.doi.org/10.5326/JAAHA-MS-7331. 2. Hyytiäinen, H.K. et. al. (2012). Use of bathroom scales in measuring asymmetry of hindlimb static weight bearing in dogs with osteoarthritis. Veterinary and Comparative Orthopaedics and Traumatology, 25(5), 390-396. doi: https://doi.org/10.3415/VCOT-11-09-0135. 3. Degner, D. (2014, August). Arthrocentesis in Dogs. Clinician's Brief. Retrieved from https://www.cliniciansbrief.com/article/arthrocentesis-dogs.
Welcome back to the Companion Animal Health Regenerative Medicine blog series! In case you missed Part 1, you can read it here. In today's blog, we are going to answer two more of the most frequently asked questions surrounding Platelet Rich Plasma.
Question 1: What is a joint flare? How often are they seen post injection?
A joint flare is an inflammatory response in the joint due to a change in the synovial environment. Also referred to as Reactive Synovitis, joint flares can be seen after the injection or withdrawal of fluid into or from the joint. The most common characteristics are: swelling of the injected joint(s), heat emittance from the area and mild to moderate lameness. Typically lasting between 24-28 hours post injection, joint flares can be managed utilizing pain medication (excluding NSAIDs).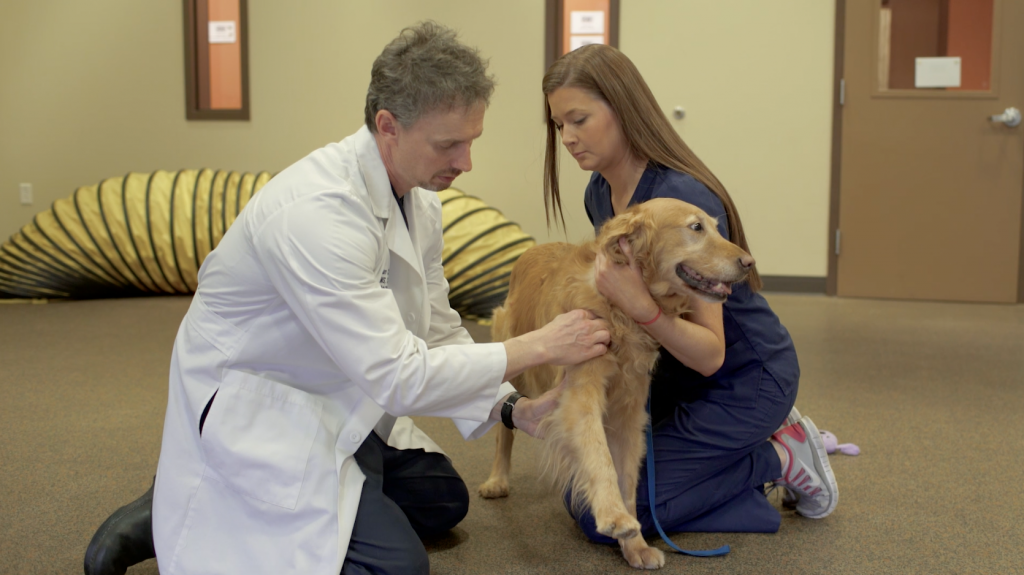 Joint flares are reported to occur between 15-20% of patients, but have not been reported to have a negative effect on the treatment outcome. If symptoms are lasting more than 72 hours, synovial fluid analysis is recommended in case there is an unlikely event of an immune moderated disease or septic joint.
Question 2: How long should I wait to laser the area after injecting Platelet Rich Plasma?
Currently there is limited data surrounding the interaction of photobiomodulation and PRP. However, preliminary research is beginning to show promise for the immediate use of laser post-injection. In one recent study, researchers investigated the use of photobiomodulation, platelet rich plasma and the combination of both in the healing of an Achilles tendon. The results of this study showed compounding therapeutic effects, shortening the healing time and returning the tissue closer to "normal" tissue structure.
While this study shows promise, further research and validation in canine patients will provide more accurate recommendations for post injection settings and protocols. Currently it is recommended to wait 3-4 days post injection to begin treating the area with photobiomodulation.
If you would like to learn more about Platelet Rich Plasma and Stem Cell therapies or if you have questions that were not answered in this blog, please contact Companion Animal Health at info@companiontherapies.com.
Stay tuned for our next blog which will explore the benefits of treating with Platelet Rich Plasma!