Thank you to everyone who submitted cases to the first Make a Case with Companion contest!  We received an overwhelming number of cases and were impressed by the quality of all submissions.  We are happy to announce the winner, runner up and 3 honorable mentions!
Winner:  BFF Veterinary Care in Minneapolis, MN, submitted by Dr. Jerri Smith and Christine Garbow
The case of Stewie, the 5-year-old male cat was deemed the winner.  Stewie presented with 5 clinical problems, including:  Stomatitis, Hyperesthesia, skin thinning, tearing and pain as a result of steroid treatment for stomatitis, Alopecia from previously treated wounds, and immune system dysregulation as a result of diseases and treatments.  Stewie experienced amazing results and accelerated healing as a result of BFF Veterinary Care's use of the CTC-12 Therapy Laser.
Click here to view Stewie's full case report!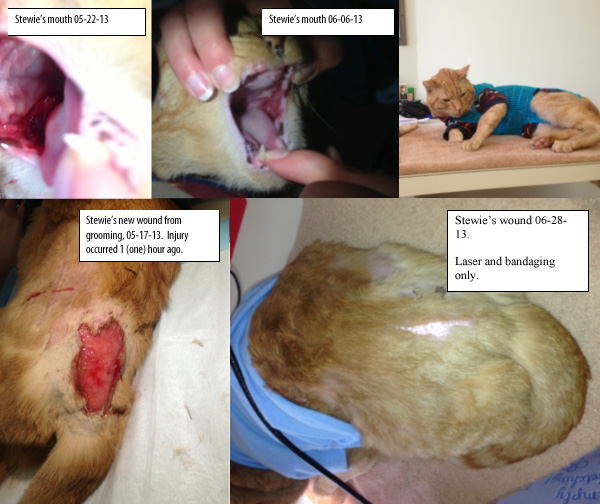 Runner Up:  Baring Blvd Veterinary Hospital in Reno, NV, submitted by Sara Hogel, DVM and Carrie Wright, DVM
Bosely, a 2-year-old American Staffordshire Terrier was brought into Baring Blvd Veterinary Hospital by Animal Control for evaluation of a severe ulcerative skin disease.  Bosely was diagnosed with severe generalized Demodicosis which was likely worsened by the Prednisone imunosuppression he had been treated with prior to visiting Baring Blvd Veterinary Hospital.  Bosely's recovery with laser therapy was incredible – these are before and after photos you truly have to see to believe.
Click here to view Bosely's full case report!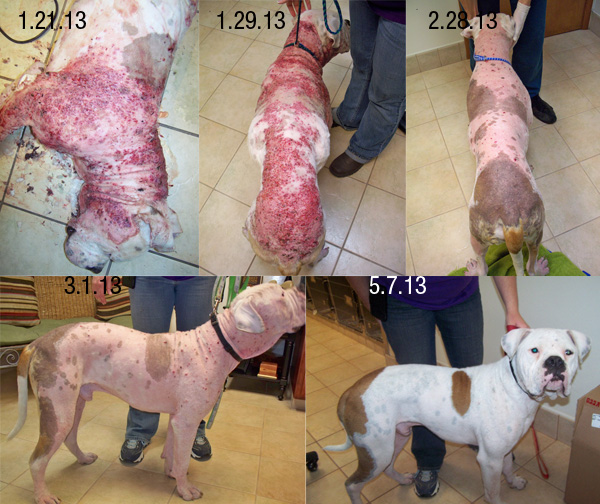 Honorable Mention:  East Oshawa Animal Hospital in Courtice, Ontario, submitted by Carol Smith, RVT, George P Hillis, BSc, DVM, MS, Diplomate, ABVP
Mackenzie, a 9.5-year-old Boston Terrier came into the care of East Oshawa Animal Hospital 3 months prior to the addition of a therapy laser.  Mackenzie had ventral slot surgery on his C4-5 Vertabrae and was prescribed a post-operative plan of conventional pain management medications and physical therapy targeting proprioceptive activation and passive movement exercises.  Mackenzie's care was very labor-intensive, requiring him to be manually moved ever 3-4 hours, manual evacuation of his bladder, stimulation for bowel movements and hand feeding.  The neurologic assessment supported the opinion that Mackenzie would eventually regain his ability to walk but a timeline was unclear.  The addition of laser therapy to Mackenzie's treatment protocol resulted in a beneficial effect on neurologic recovery and enabled Mackenzie to recover in much shorter period of time.
Click here to view Mackenzie's full case report!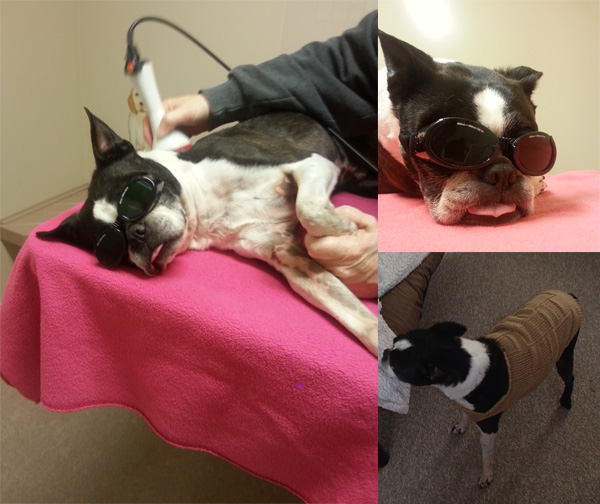 Honorable Mention:  Mile High Veterinary Hospital in Aurora, CO, submitted by Iian Waskow, DVM
Dax, a Doberman Pinscher and victim of neglect presented at Mile High Veterinary Hospital with a severe infection and granulation tissue proliferation on his right hind foot.  He had been chained in the owner's yard and the chain strangulated his foot leading to severe infection and amputation of 2 toes at a local animal rescue group.  Upon transfer of care to Mile High Veterinary Hospital the surgen advised that in his career he had seen 2 cases of similar lesions that were almost as severe as Dax's case and that in his opinion Dax had less than a 5% chance of keeping his foot.  Mile High Veterinary Hospital developed a treatment plan for Dax that included the use of Clavamox and laser therapy.  After 2 days of laser therapy Dax's foot had markedly improved.  Over the next 7-8 weeks Dax continued to improve and further amputation was avoided.  Dax was adopted by one of Mile High Veterinary Hospital's clients and was able to keep his foot!
Click here to view Dax's full case report!
Honorable Mention:  Lake Forest Animal Hospital in Forest, VA, submitted by Dr. Amy Taunton
Maggie, an 11-year-old Domestic Short Hair presented at Lake Forest Animal Hospital with a non-healing wound of unknown cause.  Maggie presented with this wound initially in 2008, as of 2011 the wound was still present.  Maggie went through a series of aggressive tests to determine the cause of the inability for this wound to heal.  She had previously been tested but this time she came up positive for FIP at 1:400.  She was started on Alpha Interferon and antibiotics – this treatment protocol seemed to keep Maggie more comfortable but the wound persisted.  Shortly thereafter laser therapy was added to the clinic and Maggie began treatment with the CTS-12 therapy laser.  In the first 2 weeks of treatment the wound decreased it's oozing and a pink wet wound developed due to the increase blood flow.  Over 5 months the wound was tracked and traced as it decreased in size.  Today Maggie only has a slight scar to indicate that the wound was ever there – all her fur even grew back!
Click here to view Maggie's full case report!