NEWARK, DE, June. 6, 2016 — Companion Animal Health is proud to announce the donation of a Companion Therapy Laser to Phoenix Landing. The laser will be used to help some of the birds at the adoption center and in the Phoenix Landing program who might benefit from laser therapy. Phoenix Landing summed up the goal of the relationship simply: "Together, we hope to make the lives of the birds in the program even better!"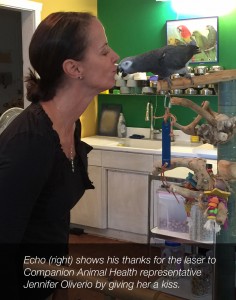 Dr. Robert Ness, DVM, of Ness Exotic Wellness Center in Illinois, presented on the benefits of laser therapy for specific cases at the 2016 Phoenix Landing Wellness Retreat, held April 30 – May 1. Dr. Ness gave an overview on the proper use of the laser and safety protocols to Phoenix Landing President, Ann Brooks, and Vice President of Education, Dr. Frank Rutkowski, DVM. Companion Animal Health representative Jennifer Oliverio visited the adoption center in May and provided additional training.
To add to the literature available on the use of laser therapy with companion parrots, Phoenix Landing will work with veterinarians and participate in several case studies. Dr. Ness identified parrots at the adoption facility who were good candidates for case studies. Information collected will be shared via Phoenix Landing's website, blog, and Facebook page.
Phoenix Landing has expressed their gratitude for the donation, stating, "Sometimes, the words 'thank you" do not seem to be enough. This is one of those times." Companion Animal Health and Phoenix Landing are thrilled about the collaboration, and look forward to witnessing the healing and knowledge gained.
About Companion Animal Health
Companion Animal Health is the Delaware-based therapeutic laser manufacturer of Companion® and Pegasus® Class IV Veterinary Therapy Lasers.
Companion is a division of LiteCure and provides expertise in design, manufacturing, production, and support. Companion not only provides highly reliable products, but also the resources and tools to successfully incorporate laser technology and products in veterinary practice.
LiteCure is ISO13485-certified and continues its commitment to science, education, and the highest level of customer service.