As previously discussed, an individual approach in designing treatment frequency will yield optimal results when incorporating photobiomodulation into standard of care. Thus, it is important to remember that we must be flexible in our treatment delivery and remain fluid as the patient responds to medical care.
In past years, the "3-2-1" approach showed good results, but it is clear that taking an individual approach in treatment delivery yields optimal results. With this treatment approach, the patient received three treatments the first week, two the second week, and one final treatment the third week. Although this approach will yield results, it is not an optimal approach as it allows no flexibility in treatment delivery.
Acute conditions should be approached with resolution as our final goal. Examples would include a laceration, an abscess, a muscle sprain, etc. The primary goal, regardless of the condition, is always pain relief, but the biggest value in utilizing photobiomodulation is the fact that tissues are also physically being remodeled to return to function. With resolution as our final goal, the patient is expected to undergo a short course of treatments to reduce the convalescence period.
As with any condition, the patient must be assessed comprehensively and all factors be taken into account so as to set out reasonable expectations. A superficial condition like a laceration would benefit from a single treatment, much like many clinics are performing a single post-op treatment on spays/neuters, etc. as part of their multimodal approach to pain management.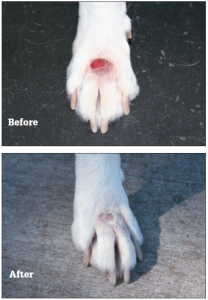 Some acute conditions may benefit from a short series of treatment when there is a larger surface area of tissue disruption, such as with hot spots. These will respond nicely when incorporating photobiomodulation daily to every other day for a handful of treatments.
In some cases, conditions may benefit from even more frequent treatments. For example, patients in intractable pain despite standard of care (NSAID, opioids, CRI, etc.) need a more assertive delivery schedule. These patients are so debilitated that they are usually hospitalized, offering the caretaker the opportunity to treat as often as needed. Such cases could include pancreatitis, FLUTD, HGE, snake bite, severe degloving wounds, etc. In this instance, the patient may require multiple treatments daily to address for this pain. Photobiomodulation offers this flexibility to deliver two or even three treatments daily if the patient requires this amount of care. Once an effective clinical response is noted, we can then consider tapering the treatment frequency.
The frequency of treatment remains an area where photobiomodulation offers the operator the flexibility to address the patient's needs and their conditions as individuals. As such, there is no "cookie cutter" approach to this – it is best addressed as per the patient's presenting condition and ensuing glide path of response.