Welcome back to the Companion Animal Health Regenerative Medicine blog series! In case you missed Part 1, you can read it here. In today's blog, we are going to answer two more of the most frequently asked questions surrounding Platelet Rich Plasma.
Question 1: What is a joint flare? How often are they seen post injection?
A joint flare is an inflammatory response in the joint due to a change in the synovial environment. Also referred to as Reactive Synovitis, joint flares can be seen after the injection or withdrawal of fluid into or from the joint. The most common characteristics are: swelling of the injected joint(s), heat emittance from the area and mild to moderate lameness. Typically lasting between 24-28 hours post injection, joint flares can be managed utilizing pain medication (excluding NSAIDs).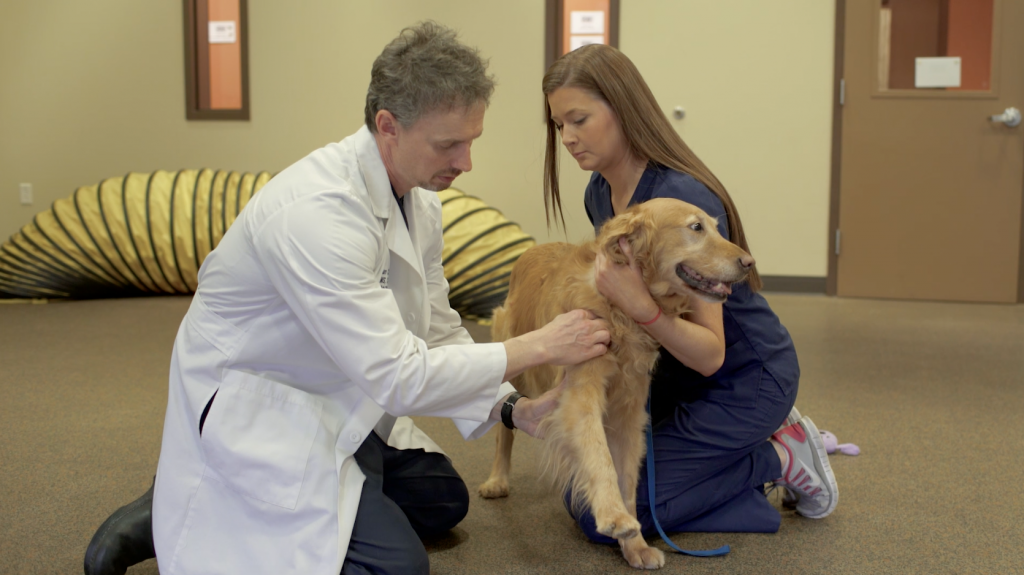 Joint flares are reported to occur between 15-20% of patients, but have not been reported to have a negative effect on the treatment outcome. If symptoms are lasting more than 72 hours, synovial fluid analysis is recommended in case there is an unlikely event of an immune moderated disease or septic joint.
Question 2: How long should I wait to laser the area after injecting Platelet Rich Plasma?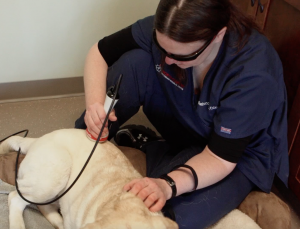 Currently there is limited data surrounding the interaction of photobiomodulation and PRP. However, preliminary research is beginning to show promise for the immediate use of laser post-injection. In one recent study, researchers investigated the use of photobiomodulation, platelet rich plasma and the combination of both in the healing of an Achilles tendon. The results of this study showed compounding therapeutic effects, shortening the healing time and returning the tissue closer to "normal" tissue structure.
While this study shows promise, further research and validation in canine patients will provide more accurate recommendations for post injection settings and protocols. Currently it is recommended to wait 3-4 days post injection to begin treating the area with photobiomodulation.
If you would like to learn more about Platelet Rich Plasma and Stem Cell therapies or if you have questions that were not answered in this blog, please contact Companion Animal Health at info@companiontherapies.com.
Stay tuned for our next blog which will explore the benefits of treating with Platelet Rich Plasma!
Welcome back to the Companion Animal Health Regenerative Medicine blog series! In today's blog, we are going to answer three of the most frequently asked questions regarding Platelet Rich Plasma. From protocols to assessing treatment response, we will provide clarity to some of the questions surrounding this ground-breaking therapy.
Question 1: Is there any proof that Platelet Rich Plasma therapy works?
This is a very common question as there are numerous sources of information regarding the efficacy of PRP treatments. A google search will provide different answers to PRP treatments and applications, though many may not be scientifically backed or peer-reviewed (the gold standard of validating a therapy). The number one place to look for efficacy data is the pubmed.gov website. Performing a search on this website will provide the latest peer-reviewed publications which investigate efficacy (or failure) of different treatments. We have provided several of these published papers for your review, which discuss the successful treatments utilizing Platelet Rich Plasma in numerous indications and may be accessed here.
Question 2: How soon after injecting Platelet Rich Plasma do you typically see results?
It is generally accepted both in human and veterinary medicine that positive effects of this therapy will become apparent within 5-10 days post treatment.
Question 3: How do I know if the patient is responding to treatment?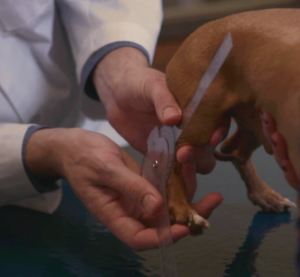 There are several considerations that need to be made when trying to decipher if a patient is responding to treatment. It is important to have a method for measuring a baseline of the patient and their response to a treatment. Many practitioners using Platelet Rich Plasma therapy will have patients return to the hospital 2 weeks post-treatment and will utilize on of the following methods to measure response.
Canine Brief Pain Survey for Pet Owners – Created by the University of Pennsylvania, this survey asks the pet owner to grade their dog's pain and general habits which may indicate improvement from the treatment. To access this survey (for free),

click here

.
Pain Assessment/Palpation – Palpation is an extremely valuable tool when assessing a dog's pain and locating the area of injury. Palpation can not only serve as a useful diagnostic, but can also provide feedback post treatment as to if the pain is still present or has reduced from its original state.

Stance or Gait Analysis – Having a quantifiable measurement both pre-and post-treatment will provide you the best data for if a dog is improving from a therapy. Stance and Gait analysis provide objective measurements of the dog's percent weight bearing on each of its limbs, center of gravity and stride length (gait analysis only).
The Stance Analyzer is a cost-effective, compact system which can easily be integrated into a hospitals diagnostic program. Requiring a small foot print for floor space (approximately 2' by 3'), the

Stance Analyzer

provides accurate readings of percent weight bearing, center of gravity and weight with a minimal time commitment. Once a reading is obtained, results are easy to interpret and can be saved for each patient to track responses to therapies.
A gait analysis system typically consists of a 20-foot walkway mat which provides a detailed analysis of stride, locomotion and other advanced objective readouts. This too is a great system for quantifiable readouts, but requires additional space to perform correctly. These systems are more expensive than the Stance Analyzer and are typically utilized by universities performing research and specialty hospitals. Click

here

to read more about gait analysis systems.

Gait videos – If you don't have a stance analyzer or gait analysis but would like a visual comparison for pre- and post-treatment effects, you can use video to document your patient's success! With the advancement of technology for smart phones, there are now applications and settings on the camera to take slow motion videos. These videos can enable you to point out changes in gait, stride length and head bobbing. They can also provide you with before and after videos to then market your regenerative treatments to your clients.
Stay tuned for our next blog where we will answer additional questions focused on Platelet Rich Plasma. If you have a question you would like answered, please contact Companion Animal Health at info@companiontherapies.com.
As we continue to delve further into Platelet Rich Plasma and how it treats conditions, the most common questions that arise during discussions are:
Do we want white blood cells in our PRP?
If so, which white blood cells do we want to include?
In this post, we will explore the different types of white blood cells, their functions and whether they are beneficial or detrimental in Platelet Rich Plasma.
What are White Blood Cells?
White Blood Cells (WBCs), also known as Leukocytes, make up the majority of the body's immune system. Their main purpose is to protect the body from foreign substances and various types of infections.
What are the different types of White Blood Cells?
Neutrophils
Monocytes
Lymphocytes
Eosinophils
Basophils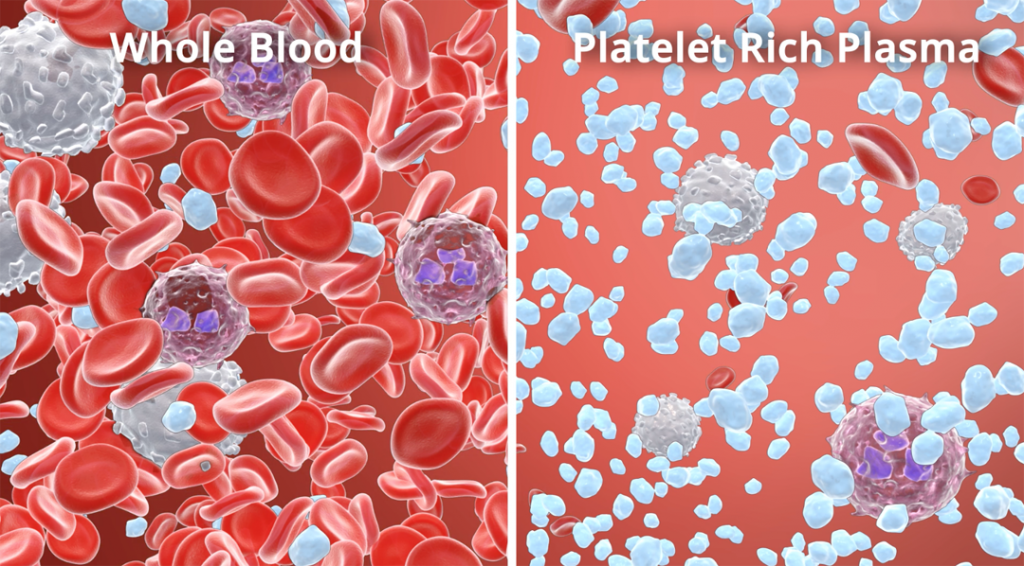 What are their functions and are they beneficial when included in Platelet Rich Plasma?
1. Neutrophils
Basic Function: Neutrophils are the first responders during an infection or injury. When there is a site of injury, they destroy germ cells through a process called phagocytosis, which in Ancient Greek literally means "to devour". Neutrophils also kill invading cells through the release of reactive oxygen species and antimicrobial peptides which are toxic to the invading germ cells. 1
Role in PRP: Neutrophils have been shown to release damaging molecules which can degrade collagen and other tissues along with extracellular matrix molecules. Neutrophils also release pro-inflammatory cytokines which leads to further damage in the tissue. Therefore, their inclusion in Platelet Rich Plasma, specifically for arthritic applications, is not recommended. 2
2. Monocytes
Basic Function: The three main functions of monocytes are: phagocytosis, facilitation of communication between the innate and adaptive immune systems, and cytokine production.3
Role in PRP: It has been found that Monocytes are associated with an increase in cellular metabolism and collagen production in fibroblasts. It has also been found that monocytes moderate the release of anti-angiogenic cytokines such as interferon-ɣ and IL-12.4 Therefore their inclusion in Platelet Rich Plasma is considered beneficial.
3. Lymphocytes
Basic Function: Lymphocytes are the patrolling cells in the circulatory system that are responsible for recognizing and responding to invading pathogens. They are characterized into three subtypes: T-Cells, B-Cells and Natural Killer Cells (NKCs). T and B cell's main function are to recognize pathogens and moderate the inflammatory response through the release of cytokines and antibodies. They also are accountable for adaptive immunity, meaning should the same pathogen be encountered again, the body is ready to respond with antibodies. Natural Killer Cells play a major role in defending the body from both tumors and virally infected cells. They are activated when cytokines (called interferons) are released, and produce cytotoxic granules that specifically destroy the altered cells.
Role in PRP: Currently the significance of Lymphocytes in Platelet Rich Plasma unknown. It is known that platelets activate Lymphocytes as part of the healing cascade through elevated levels of IL-6, however their benefit or detriment to PRP is still unclear.
4. Eosinophils
Basic Function: Eosinophils are most commonly known as a defense mechanism against parasites and are important mediators of allergic reactions.
Role in PRP: Eosinophils are known to produce several beneficial growth factors including VEGF, PDGF and TGF-β. These growth factors are associated with angiogenesis, cellular proliferation and extracellular matrix formation.5 Therefore their inclusion in Platelet Rich Plasma may be beneficial in tissue repair.
5. Basophils
Basic Function: Basophils are also recognized to play a role in parasite defense and allergic reactions. They release several proteins that increase vascular permeation and regulation of the inflammatory process.
Role in PRP: The role of Basophils for PRP are relatively unknown. Basophils are known to secrete pro inflammatory cytokines but little is known if these are beneficial or detrimental to a PRP sample.
What is the bottom line?
With the current knowledge and research surrounding White Blood Cells, it is generally understood that a PRP sample should include an increase in Monocytes and a decrease in Neutrophils. Knowledge regarding the role of Lymphocytes, Eosinophils and Basophils in PRP is still limited, therefore absolute decisions on their inclusion or exclusion cannot be made. But as our understanding of White Blood Cells and their roles in PRP continue to evolve, formulations of PRP in the future may change to treat a specific condition, moving this from a personalized medicine to a precision medicine.
Stay tuned for our next blog where we will answer your questions about Platelet Rich Plasma. To submit a question for our next blog, email heatherw@companiontherapy.com.
References:
Mayadas, T. N., Cullere, X., & Lowell, C. A. (2014). The Multifaceted Functions of Neutrophils. Annual Review of Pathology, 9, 181–218. http://doi.org/10.1146/annurev-pathol-020712-164023
Helen L. Wright, Robert J. Moots, Roger C. Bucknall, Steven W. Edwards; Neutrophil function in inflammation and inflammatory diseases. Rheumatology (Oxford) 2010; 49 (9): 1618-1631. doi: 10.1093/rheumatology/keq045
Nichols, B. A., Bainton, D. F., & Farquhar, M. G. (1971). DIFFERENTIATION OF MONOCYTES : Origin, Nature, and Fate of Their Azurophil Granules. The Journal of Cell Biology, 50(2), 498–515.
Sundman, E.A. et al. (2013). The Anti-inflammatory and Matrix Restorative Mechanisms of Platelet-Rich Plasma in Osteoarthritis. The American Journal of Sports Medicine.Vol 42, Issue 1, pp. 35 – 41
Duarte, J. et al. Platelet-Rich Plasma: Regenerative Medicine: Sports Medicine, Orthopedic, and Recovery of Musculoskeletal Injuries. Springer Science & Business Media, Oct 29, 2013 pp 220